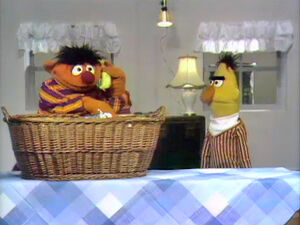 Kermit's Lectures: Kermit demonstrates between by using a ping-pong ball, a doughnut, and a Beatles record sitting on a table, with the donut between the record and the ball. Beautiful Day Monster comes along and proceeds to eat everything. Kermit fears he will also get eaten, but the monster thanks him with a kiss.
Film: A voice narrates a film about how things begin -- including roosters, buildings, lakes, cups, birthday cakes, trees, and babies. (First: Episode 0003)
Ernie and Bert: Bert sees Ernie talk to "an elephant" while using a banana as a phone. Ernie explains to Bert that he is just pretending, but then he tells Bert that the elephant wants to talk to him. (First: Episode 0004)
Cartoon: A man displays the capital and lowercase A, and explains what an alligator is... before he's eaten by one. (First: Episode 0006)
Cartoon: "Poverty X" -- A figure explains how X is used at the end of words. (aired twice) (First: Episode 0006)
Ad blocker interference detected!
Wikia is a free-to-use site that makes money from advertising. We have a modified experience for viewers using ad blockers

Wikia is not accessible if you've made further modifications. Remove the custom ad blocker rule(s) and the page will load as expected.