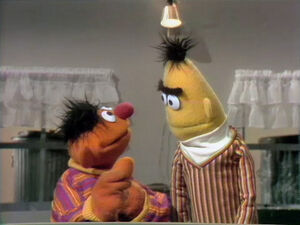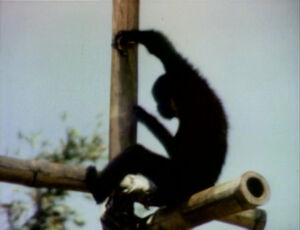 An Anything Muppet boy teaches "forward" and "backward" with a group of wild Anything Muppets and Grover, who keep running over the boy when his back is turned.
Film: Different kinds of wheels are shown and what they're used for. (First: Episode 0013)
Film: A girl named Jennifer visits family friend Mrs. Wilson in the country, and together they pick food from her garden. (First: Episode 0021)
Cartoon: "Egg Chant": A girl skips rope and says the alphabet as a boy sits with an egg on his knee; the egg hatches, and a dancing lizard comes out. (First: Episode 0003)
Film: "ROUND" -- A live-action film shows circles in everyday life, from Coca-Cola bottle caps, to moving wheels, to yo-yos, bubbles, and balloons, set to a lively soundtrack. (First: Episode 0002)
Cartoon: "Story of J" -- Two boys are told of a man named Joe who is sent to jail after jamming a june bug into a jar and a tire pump. (First: Episode 0009)
Ernie and Bert are watching TV, but Bert gets bored and decides to play a record. Ernie tells him to turn down the volume, but Bert won't, so Ernie drowns out Bert's music by playing the radio. Bert then retaliates by turning on the blender. With all four things running at once, they blow a fuse. Bert goes outside to fix the fuse box, while Ernie turns off all the things that were running. When the lights come back on, they decide to play cards instead of fight. (First: Episode 0003)
Ad blocker interference detected!
Wikia is a free-to-use site that makes money from advertising. We have a modified experience for viewers using ad blockers

Wikia is not accessible if you've made further modifications. Remove the custom ad blocker rule(s) and the page will load as expected.