Ad blocker interference detected!
Wikia is a free-to-use site that makes money from advertising. We have a modified experience for viewers using ad blockers

Wikia is not accessible if you've made further modifications. Remove the custom ad blocker rule(s) and the page will load as expected.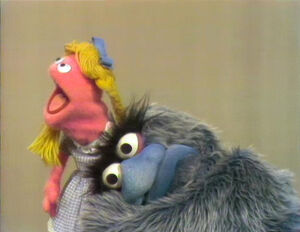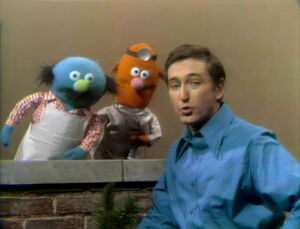 Guy Smiley (then named Sonny Friendly) hosts the "Pick Your Pet" game show. The contestant, Lucy Jones, is blindfolded and has to choose between a bird, a dog, and a monster (while trying to figure out what kinds of pets they are). Lucy asks them questions that would relate to a cat. Her time runs out before she can ask the Beautiful Day Monster any questions. She chooses the Beautiful Day Monster. The monster acts like a cat, so Lucy is happy with her pet.
Ernie and Bert: Ernie has a treasure map of the living room, leading to a spot marked with an X. As Bert watches, he digs up a treasure chest with a letter X inside. (First: Episode 0013)
Film: A group of kids play follow the leader and go over, around and through various obstacles, but one of them takes a while to catch on. (First: Episode 0001)
Ernie and Bert: Ernie shows Bert how many legs a dog has, how many legs a table has, and how many eyes a monster has, but Bert denies that the monster has four eyes. Then the four-eyed monster (Beautiful Day Monster, with two extra eyes) shows up. (First: Episode 0009)
Cartoon: A man displays the capital and lowercase A, and explains what an alligator is...before he is eaten by one. (First: Episode 0006)
Cartoon: "Poverty X"--A figure explains how X is used at the end of words. (First: Episode 0006)
Cartoon: "Count Up Elevator" -- An elevator operator stops at ten floors to pick up passengers, including a witch, a fireman, and a kangaroo. The tenth passenger, a mouse, causes the elevator to overload and explode. (aired twice) (First: Episode 0003)