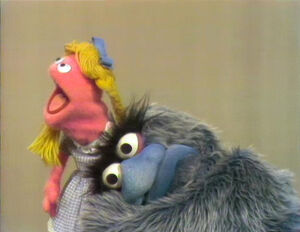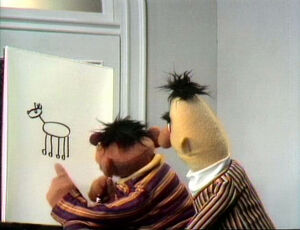 Guy Smiley (then named Sonny Friendly) hosts the "Pick Your Pet" game show. The contestant, Lucy Jones, is blindfolded and has to choose between a bird, a dog, and a monster (while trying to figure out what kinds of pets they are). Lucy asks them questions that would relate to a cat. Her time runs out before she can ask the Beautiful Day Monster any questions. She chooses the Beautiful Day Monster. The monster acts like a cat, so Lucy is happy with her pet.
Film: A group of kids play follow the leader and go over, around and through various obstacles, but one of them takes a while to catch on. (First: Episode 0001)
Ernie and Bert: Ernie shows Bert how many legs a dog has, how many legs a table has, and how many eyes a monster has, but Bert denies that the monster has four eyes. Then the four-eyed monster (Beautiful Day Monster, with two extra eyes) shows up. (First: Episode 0009)
Cartoon: A man displays the capital and lowercase A, and explains what an alligator is...before he is eaten by one. (First: Episode 0006)
Cartoon: "Poverty X"--A figure explains how X is used at the end of words. (First: Episode 0006)
Cartoon: "Count Up Elevator" -- An elevator operator stops at ten floors to pick up passengers, including a witch, a fireman, and a kangaroo. The tenth passenger, a mouse, causes the elevator to overload and explode. (aired twice) (First: Episode 0003)
Ernie complains when a big letter A appears on the TV screen, so Bert turns off the set, unplugs it, and Ernie takes a bunch of A objects out of the TV, including an acorn, apricots, an apron, an ape, and finally a letter A. When Bert plugs it back in, a big letter B appears on the screen. (First: Episode 0007)
Ad blocker interference detected!
Wikia is a free-to-use site that makes money from advertising. We have a modified experience for viewers using ad blockers

Wikia is not accessible if you've made further modifications. Remove the custom ad blocker rule(s) and the page will load as expected.