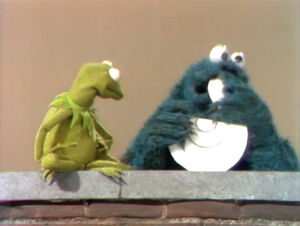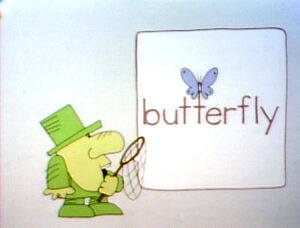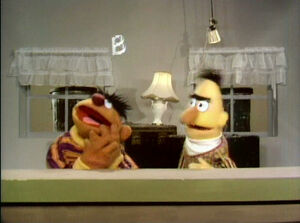 Kermit's Lectures: Kermit and Cookie Monster demonstrate what it is to be happy, angry and sad. Kermit gets angry when Cookie Monster eats the happy face that Kermit provided, Cookie Monster feels sad when Kermit threatens to tell Cookie's mommy what he did, and that makes Kermit happy because he was able to do his demonstration without the tasty Styrofoam faces.
Film: A kid taking a shower explains how animals, people, and things get clean. (First: Episode 0001)
Ernie and Bert: Ernie invents a machine that makes A's -- you turn the crank over here, you push the button on top, and out comes an A. But it doesn't work when it rains -- it only makes A when the sun shines. (First: Episode 0006)
Cartoon: A man displays the capital and lowercase A, and explains what an alligator is...before he is eaten by one. (First: Episode 0006)
Cartoon: "Poverty X"--A figure explains how X is used at the end of words. (First: Episode 0006)
Cartoon: Gloria, a rambunctious little girl, sings the alphabet song while an adult gives her instructions. (lowercase version) (First: Episode 0010)
Cartoon: An octopus one-man band helps viewers learn how to count to ten. (First: Episode 0004)
Ernie and Bert: Bert has a number 4 in his hand, and asks Ernie what it is. Ernie doesn't know, and guesses that it's a chocolate pie. Bert decides to cut to a film about the number 4, so that Ernie can get a clue. When the clip is over, Ernie makes another guess: a cream pie. "If this is a cream pie, then what is this?" asks Bert, while he pulls out a cream pie. "That's a four!" Ernie grins, and Bert pushes the pie in Ernie's face. "I knew it was a pie," Ernie remarks to the camera, "but who wants to be hit in the face with a number four?" (First: Episode 0006)
Story: "Dear Uncle Carlos"
Ernie is startled when a buzzing B enters the room and flies around. Bert thinks it's harmless, but then it stings Bert on the nose. (First: Episode 0013)