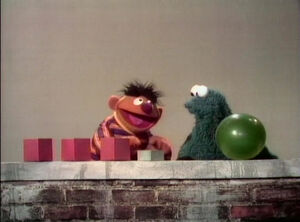 Cookie Monster and Ernie: Part 1: Ernie's expecting a call from Bert, but Cookie Monster needs to use the phone to make a short call. Parts 2 and 3: Ernie impatiently waits for Cookie Monster to finish. Part 4: Cookie Monster finally hangs up, but he's not finished with the phone—he eats it. Then Bert calls.
Cartoon: "Poverty X"--A figure explains how X is used at the end of words. (aired twice) (First: Episode 0006)
Film: Three boys (including Brian Henson) pretend to be steam shovels, playing in the dirt. This segues into footage of real construction vehicles. A parallel is drawn between the machinery and how the boys' arms and mouths work. (First: Episode 0003)
Cartoon: A Gary Owens-voiced man attempts to discuss the letter I, but is jeered by an offscreen voice. The man uses him as an example of the word "impolite". (aired twice) (First: Episode 0032)
Countdown series: After countdown, the director himself is launched into space as the rocket stays put. (First: Episode 0018)
Countdown series: The rocket takes off at seven. It comes back down so the director can continue his countdown, but at one, it falls over with a huge crash. (First: Episode 0022)
Ad blocker interference detected!
Wikia is a free-to-use site that makes money from advertising. We have a modified experience for viewers using ad blockers

Wikia is not accessible if you've made further modifications. Remove the custom ad blocker rule(s) and the page will load as expected.