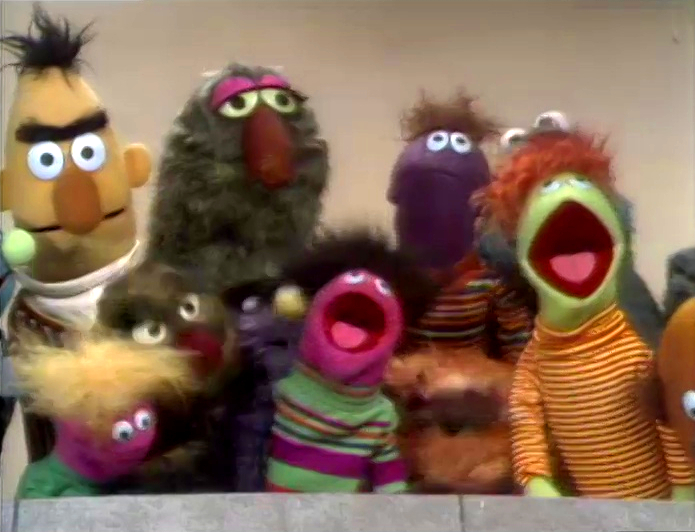 Ernie and Bert: Ernie explains to the audience how people have two of everything: "two eyes, two ears, two hands, two noses..." "Wait a minute, you ding-a-ling!" Bert interrupts. "People don't have two noses!" Ernie promptly pulls Bert's nose off, sticks it to his own face, and keeps counting. "Two noses, two hands, two ears, two eyes ... too bad!"
A group of Anything Muppets enter, with one saying, "Some of us are here, but not all." They leave, and say that now none of them are there. They re-enter with a few more, saying that some of them are there but not all, and leave again, saying that none of them are there. Many Muppets appear, including Bert, Grover, Scudge, Fred's son, Oscar and Cookie Monster, who all say, "Now we are all here!"
Cartoon: A sprightly seal tells the story of six silly sailors who split up on a see-saw. (First: Episode 0002)
Cartoon: Ten little Greeblies (bug-like creatures) keep getting separated by their group, teaching a lesson in counting backwards. (First: Episode 0006)
Ad blocker interference detected!
Wikia is a free-to-use site that makes money from advertising. We have a modified experience for viewers using ad blockers

Wikia is not accessible if you've made further modifications. Remove the custom ad blocker rule(s) and the page will load as expected.