Ad blocker interference detected!
Wikia is a free-to-use site that makes money from advertising. We have a modified experience for viewers using ad blockers

Wikia is not accessible if you've made further modifications. Remove the custom ad blocker rule(s) and the page will load as expected.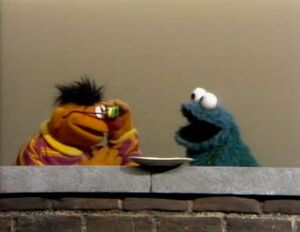 Film: A boy with magic glasses listens to the sounds of an ice cream truck, a dog, a horse galloping, and a parrot. (First: Episode 0008)
Cookie Monster and Ernie: Ernie has a pair of magic glasses, which help you see things that are invisible. He decides he'll try them after he's finished eating his plate of cookies. Cookie Monster sneaks up behind Ernie and takes a cookie while he isn't looking -- and when Ernie looks around for it, Cookie Monster sneaks another one. Finally, Ernie puts on his glasses, and catches sight of Cookie Monster. Now he's convinced the glasses are really magic -- they let him see an invisible monster!
Film: "ROUND" -- A live-action film shows circles in everyday life, from Coca-Cola bottle caps, to moving wheels, to yo-yos, bubbles, and balloons, set to a lively soundtrack. (First: Episode 0002)
Ernie and Bert: Bert asks Ernie about his day. Ernie doesn't think anything interesting happened. Bert points out that Ernie went to the zoo, but Ernie says nothing interesting happened at the zoo. Then he talks about a scratch he got on his finger, and talks about how he got it, realizing in the process that something interesting did happen after all. (First: Episode 0020)
Cartoon: A fisherboy catches all the letters of the alphabet and makes alphabet soup. (aired twice) (First: Episode 0004)
Animation: "E Imagination": A surreal story of a boy eating a peach atop an eagle witnesseing a queen on her knee, dreaming of eating ice cream in a land of steam. (First: Episode 0001)
Cartoon: "Imagination O" -- A surreal story about a boy, a goat, and a bulldozer that closes up a hole in a cloud that blows the cold. (First: Episode 0011)
Cartoon: "Imagination V" -- A surreal segment involving the Venus de Milo statue, a violin, a vampire, and vigilantes, among other things beginning with V. (First: Episode 0050)