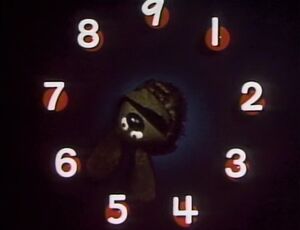 Cartoon: "Imagination V" -- A surreal segment involving the Venus de Milo statue, a violin, a vampire, and vigilantes, among other things beginning with V.
Film: Different kinds of wheels are shown and what they're used for. (First: Episode 0013)
Ernie and Bert are watching TV, but Bert gets bored and decides to play a record. Ernie tells him to turn down the volume, but Bert won't, so Ernie drowns out Bert's music by playing the radio. Bert then retaliates by turning on the blender. With all four things running at once, they blow a fuse. Bert goes outside to fix the fuse box, while Ernie turns off all the things that were running. When the lights are back on, they decide to play cards instead of fight. (First: Episode 0003)
Film: Three boys (including Brian Henson) pretend to be steam shovels, playing in the dirt. This segues into footage of real construction vehicles. A parallel is drawn between the machinery and how the boys' arms and mouths work. (First: Episode 0003)
Cartoon: An elderly man discusses the letter K with a kitten, explaining how kittens are picked up by their mother by the scruff of their neck. A giant cat gives an example by picking up the man in this manner. (aired twice) (First: Episode 0040)
Cartoon: An octopus one-man band helps viewers learn how to count to ten. (First: Episode 0004)
Story: Susan reads "Swimmy".