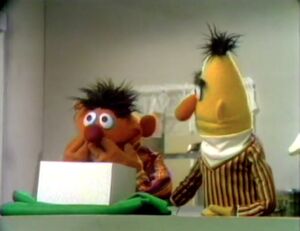 Ernie demonstrates the word quart and uses a quart of milk; Cookie Monster drinks the quart of milk.
Ernie demonstrates a ukulele; Cookie Monster eats it.
Cartoon: A man displays the capital and lowercase A, and explains what an alligator is...before he is eaten by one. (First: Episode 0006)
Ernie and Bert: Ernie wants to show Bert his ice cube collection, however, they were too cold so he put them in a box covered with an electric blanket. Much to Ernie's surprise, the ice cubes have disappeared. Since they were replaced with water, Ernie suspects that a fish might have stolen them. Bert tells him that it's because they've melted. Ernie, however, is now convinced that a fish melted the ice cubes, and angrily walks out the door, threatening to "tear him fin-from-fin." (First: Episode 0033)
Cartoon: Ten little Greeblies (bug-like creatures) keep getting separated by their group, teaching a lesson in counting backwards. (First: Episode 0006)
Film: "What if you were magic, and could make things stop just by telling it to, or make it go backwards? Stop! Then you could see what things look like when they're moving. Go forwards! Stop! Well, film is magic, and this is a film, so you can be magic for three minutes. Like this: Go slow, water fountain! Now, you try it."