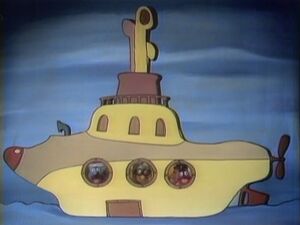 Kermit teaches about soft and loud.
Film: A kid taking a shower explains how animals, people, and things get clean. (First: Episode 0001)
An Anything Muppet boy and girl share a bag of jellybeans, but they're scared away by a monster. They make friends with the monster, and share the jellybeans with him. (3-part sketch) (First: Episode 0016)
Film: A voice narrates a film about how things begin -- including roosters, buildings, lakes, cups, birthday cakes, trees, and babies. (First: Episode 0003)
Cartoon: "Poverty U" -- A figure gives a salute to the letter U, and presents the letter with a bouquet of flowers. (First: Episode 0036)
Cartoon: "Count Up Elevator" -- An elevator operator stops at ten floors to pick up passengers, including a witch, a fireman, and a kangaroo. The tenth passenger, a mouse, causes the elevator to overload and explode. (First: Episode 0003)
Ad blocker interference detected!
Wikia is a free-to-use site that makes money from advertising. We have a modified experience for viewers using ad blockers

Wikia is not accessible if you've made further modifications. Remove the custom ad blocker rule(s) and the page will load as expected.