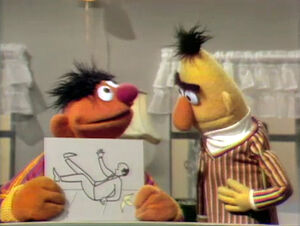 Ernie and Bert: Ernie shows drawings to Bert, and Bert has to guess what happened. Ernie has a drawing of an empty bird cage with an open door (the bird flew away), and a man lying on the ground with a banana peel next to him (he slipped on it). Then Ernie shows Bert an blank piece of paper. The answer to that one is that there was a cow eating grass, but the grass is all eaten now and the cow went home.
Ernie and Bert: Part 1: Bert tells Ernie to clean up the messy apartment. Part 2: Ernie has finished cleaning up the apartment, but the toy chest is still a mess, so he throws toys all over the place. (First: Episode 0010)
Film: A voice narrates a film about how things begin -- including roosters, buildings, lakes, cups, birthday cakes, trees, and babies. (First: Episode 0003)
Film: A boy with magic glasses listens to the sounds of an ice cream truck, a dog, a horse galloping, and a parrot. (First: Episode 0008)
Cartoon: "Imagination O" -- A surreal story about a boy, a goat, and a bulldozer that closes up a hole in a cloud that blows the cold. (First: Episode 0011)
Story: "What Do You Say, Dear?"