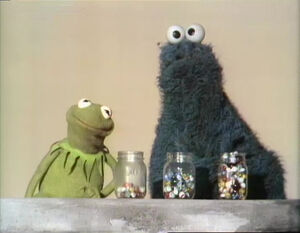 Kermit has the most jellybeans, and the most marbles.
Countdown series: After the countdown, water comes out of the rocket and splashes everyone.
Countdown series: Minus his podium, the director laughs nervously as he accidentally launches the spectators into space.
Countdown series: The rocket takes off at seven. It comes back down so the director can continue his countdown, but at one, it falls over and explodes.
Film: There Once Was a Hand—Skip Hinnant narrates the story of an unhappy hand that wishes he could make a noise. (First: Episode 0007)
Cartoon: A man displays the capital and lowercase A, and explains what an alligator is...before he is eaten by one. (First: Episode 0006)
Cartoon: "Poverty H" -- an orange figure tries to talk about the letter H, but a yellow figure keeps listing H words. (aired three times) (First: Episode 0020)
Cartoon: A man (voiced by Gary Owens) explains how H starts the word "Hello", which is then demonstrated by people calling him and asking for someone named Harold. (First: Episode 0020)
Cartoon: A woman explains the letter H and its use in "horseshoe," when a horse comes to reclaim his shoe and starts tickling the woman. (First: Episode 0020)
Cartoon: "Poverty T" -- a figure with glasses explains T words, and at the same time abuses another figure with some of them (including getting him tangled and twirled in twine). The second figure turns out to be a cop, who presents him with a ticket for his trash. (First: Episode 0020)
Cartoon: Gloria, a rambunctious little girl, sings the alphabet song while an adult gives her instructions. (lowercase version) (First: Episode 0010)
A comparison of faucets, hoses, and shower heads