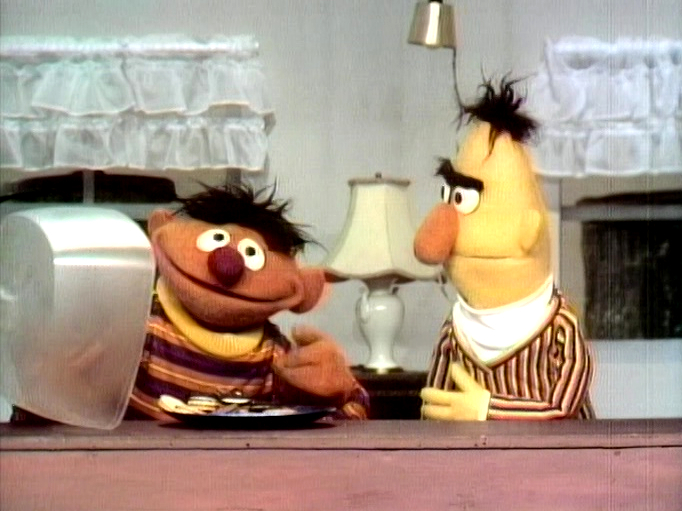 Film: A girl named Jennifer visits family friend Mrs. Wilson in the country, and together they pick food from her garden.
Ernie and Bert: Ernie wants to have some cookies. Bert asks Ernie if he knows what "before" means, and Ernie demonstrates by saying that before he can have a cookie, he has to open the lid to a cookie jar, and after he closes the lid, he eats the cookie. He demonstrates a few times, until he loses his appetite for dinner. (First: Episode 0007)
Film: Different kinds of wheels are shown and what they're used for. (First: Episode 0013)
"Triangle and Square": A male voice narrates a story of a jazzy triangle who loved to dance, and a square square. The triangle likes being flexible, but the square would rather be stiff and *square*. (First: Episode 0007)
Film: A kid taking a shower explains how animals, people, and things get clean. (First: Episode 0001)
Cartoon: A man displays the capital and lowercase A, and explains what an alligator is...before he is eaten by one. (First: Episode 0006)
Cartoon: A woman explains the letter H and its use in "horseshoe", when a horse comes to reclaim his shoe and starts tickling the woman. (First: Episode 0020)
Cartoon: "Poverty T" -- a figure with glasses explains T words, and at the same time abuses another figure with some of them (including getting him tangled and twirled in twine). The second figure turns out to be a cop, who presents him with a ticket for his trash. (First: Episode 0020)
Song: "You Gotta Have Rain"