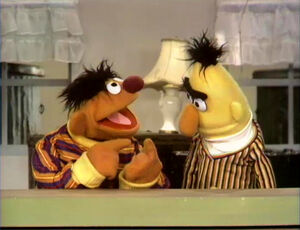 Ernie and Bert: Bert asks Ernie about his day. Ernie says nothing interesting happened. Bert points out that Ernie went to the zoo, but Ernie says nothing interesting happened at the zoo. Then he talks about a scratch he got on his finger, and talks about how he got it, realizing in the process that something interesting did happen after all.
Cartoon: "Poverty H"-- A red man tries to think of words that begin with H, but a yellow man keeps spewing them out until Red draws a hole under Yellow, who yells "HELP!!"
Cartoon: A man (voiced by Gary Owens) explains how H starts the word "Hello", which is then demonstrated by people calling him and asking for someone named Harold.
Cartoon: A woman explains the letter H and its use in "horseshoe", when a horse comes to reclaim his shoe and starts tickling the woman.
Cartoon: "Poverty T" -- a figure with glasses explains T words, and at the same time abuses another figure with some of them (including getting him tangled and twirled in twine). The second figure turns out to be a cop, who presents him with a ticket for his trash.
Film: "The Little Baker" -- A boy goes to a bakery and learns how an apple pie is made.
Film: "ROUND" -- A live-action film shows circles in everyday life, from Coca-Cola bottle caps, to moving wheels, to yo-yos, bubbles, and balloons, set to a lively soundtrack. (First: Episode 0002)
Cartoon: Poor Solomon Grundy washes a different part of the left side of his body every day, but at the end of the week, "he's still half dirty!" (First: Episode 0001)
Cartoon: "Story of R" -- A man and his dog play a film about the letter R, involving a robber who steals a rooster and escapes by rowboat. (aired twice) (First: Episode 0011)
Ad blocker interference detected!
Wikia is a free-to-use site that makes money from advertising. We have a modified experience for viewers using ad blockers

Wikia is not accessible if you've made further modifications. Remove the custom ad blocker rule(s) and the page will load as expected.