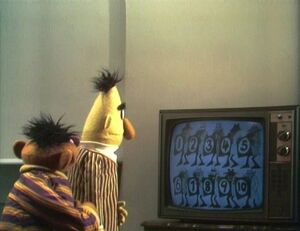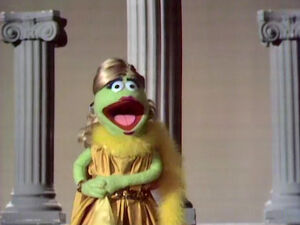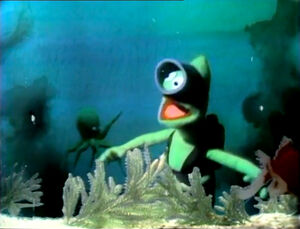 Ernie and Bert: Bert and Ernie try to figure out who owns a cabinet containing cookies. Bert says that the cabinet is his, because he has his first initial, B, on the door. However, the B is spread between two doors, and Ernie opens one door, making the other look like an E.
Ernie and Bert: Ernie gets Bert to play a game with him, in which he says "I one the sandbox," Bert says "I two the sandbox," and so on until Bert gets to "I eight the sandbox." "You ate the sandbox? How'd it taste?" Ernie asks.
Cartoon: Two boys notice a D, saying it looks fat. A resonant voice (Gary Owens) informs them that it's the letter D. This leads to a jazzy story about a dog who digs for dice, wins a duck, and buys a dinosaur with a dime. Moral: "If you dig a dinosaur, drop your duck for a dime."
Ernie and Bert: In a three-part sketch, Ernie conducts an "alphabet test" (using a poster from the Sesame Street Learning Kit). While Bert checks the poster, Ernie tries to recite the alphabet from memory. After a couple of snags, Ernie completes it. When Bert challenges him to say it backwards, Ernie turns his back from Bert and recites the alphabet, facing the poster.
Animation: "E Imagination": A surreal story of a boy eating a peach atop an eagle witnessing a queen on her knee, dreaming of eating ice cream in a land of steam. (First: Episode 0001)
Clay animation: "E" -- the word "egg" is spelled out and becomes an egg, which then hatches an eagle. (First: Episode 0003)
Cartoon: An octopus one-man band helps viewers learn how to count to ten. (aired twice) (First: Episode 0004)
How a magnifying glass works
Film: What looks like a view of space (with astronaut voice-overs) turns out to be a close-up of a bowl of fruit.