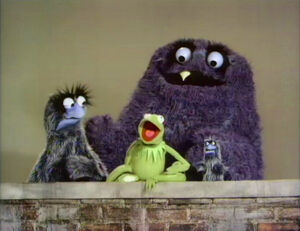 Kermit's Lectures: Two Snerfs help Kermit teach the difference between tall and short, but unfortunately, they keep changing sizes. Kermit then changes the lecture about little and big with different-sized monsters: Frank and Harold... but he also meets Splurge.
Bob plays "What happens next" by showing photos of Buddy and Jim going down a slide, and playing with a jack-in-the-box.
"Triangle and Square": A male voice narrates a story of a jazzy triangle who loved to dance, and a square square. The triangle likes being flexible, but the square would rather be stiff and *square*. (First: Episode 0007)
Cartoon: Story of "J" -- Two boys are told of a man named Joe who is sent to jail after jamming a june bug into a jar and a tire pump. (First: Episode 0009)
Cartoon: "Imagination O" -- A surreal story about a boy, a goat, and a bulldozer that closes up a hole in a cloud that blows the cold. (First: Episode 0011)
Cartoon: "Story of R" -- A man and his dog play a film about the letter R, involving a robber who steals a rooster and escapes by rowboat. (First: Episode 0011)
Cartoon: Gloria, a rambunctious little girl, sings the alphabet song while an adult gives her instructions. (lowercase version) (First: Episode 0010)
Story: "My Little Brother"