Episode 0014
Talk

2
27,353pages on
this wiki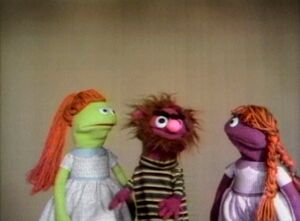 Ernie and Bert: Ernie has a collection of R's in a box. He shows Bert, who says that Ernie will be the laughingstock of Sesame Street if anyone else finds out. Ernie sadly throws away his R's -- and Bert asks to have the box for his J collection.
Ernie and Bert share jellybeans. Ernie has six jellybeans, and Bert has seven. Bert thanks Ernie for giving him the extra jellybean. Ernie says that isn't fair -- they should have an equal amount. To make it even, Ernie eats the extra jellybean. That's fair, isn't it?
Buddy and Jim try to play checkers, but they can't get their chairs facing the right direction.
Cartoon: "Story of J" -- Two boys are told of a man named Joe who is sent to jail after jamming a june bug into a jar and a tire pump. (First: Episode 0009)
Cartoon: "Story of R" -- A man and his dog play a film about the letter R, involving a robber who steals a rooster and escapes by rowboat. (First: Episode 0011)
Cartoon: A man (voiced by Casey Kasem) explains the letter R with a radio. Once he starts singing, the radio decides to turn him off by tweaking his nose. (First: Episode 0011)
Story: "Whistle for Willie"