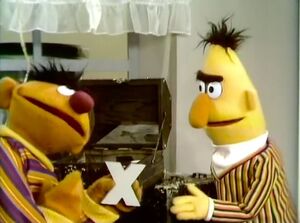 Ernie and Bert: Ernie has a treasure map of the living room, leading to a spot marked with an X. As Bert watches, he digs up a treasure chest with a letter X inside.
Cartoon: Marvelous Martha knows the many words beginning with the letter M.
Film: Different kinds of wheels are shown and what they're used for.
Cartoon: A boxer explains the letter "B" and the purpose of boxing gloves. (First: Episode 0006)
Cartoon: "Poverty X" -- A figure explains how X is used at the end of words. (aired twice) (First: Episode 0006)
Cartoon: Gloria, a rambunctious little girl, sings the alphabet song while an adult gives her instructions. (lowercase version) (First: Episode 0010)
Film: "ROUND" -- A live-action film shows circles in everyday life, from Coca-Cola bottle caps, to moving wheels, to yo-yos, bubbles, and balloons, set to a lively soundtrack. (First: Episode 0002)
Cartoon: "Count Up Elevator" -- An elevator operator stops at ten floors to pick up passengers, including a witch, a fireman, and a kangaroo. The tenth passenger, a mouse, causes the elevator to overload and explode. (First: Episode 0003)