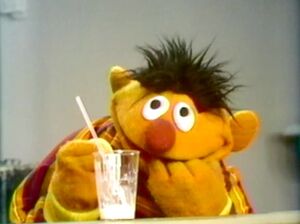 Ernie and Bert: Ernie is preparing to have a snack but discovers that his milk and cookies keep on vanishing. He eventually catches the culprit...
Cartoon: "Imagination O" -- A surreal story about a boy, a goat, and a bulldozer that closes up a hole in a cloud that blows the cold. (aired twice)
Cartoon: "Story of R" -- A man and his dog play a film about the letter R, involving a robber who steals a rooster and escapes by rowboat.
Cartoon: A man (voiced by Casey Kasem) explains the letter R with a radio. Once he starts singing, the radio decides to turn him off by tweaking his nose.
Film: A kid taking a shower explains how animals, people, and things get clean. (First: Episode 0001)
Cartoon: "Story of J" -- Two boys are told of a man named Joe who is sent to jail after jamming a june bug into a jar and a tire pump. (First: Episode 0009)
Cartoon: A fisherboy catches all the letters of the alphabet and makes alphabet soup. (First: Episode 0004)