Episode 0006
Talk

0
27,401pages on
this wiki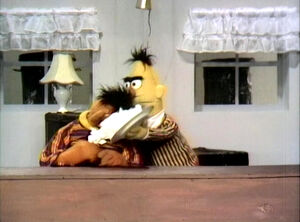 Ernie and Bert: Ernie invents a machine that makes A's -- you turn the crank over here, you push the button on top, and out comes an A. But it doesn't work when it rains -- it only makes A when the sun shines.
Kermit's Lectures: Kermit the Frog tries to present a lecture about the letter B, but Cookie Monster eats the bottom of the B and turns it into an R. Kermit talks about the R, but then Cookie Monster snacks some more, and makes it a P. Kermit tries to go on, but the monster keeps eating, making it into an F, and then an I, and then nothing at all. Kermit chides Cookie Monster for ruining his lesson. Cookie Monster gives Kermit a kiss, then exits.
Ernie and Bert: Bert has a number 4 in his hand, and asks Ernie what it is. Ernie doesn't know, and guesses that it's a chocolate pie. Bert decides to cut to a film about the number 4, so that Ernie can get a clue. When the clip is over, Ernie makes another guess: a cream pie. "If this is a cream pie, then what is this?" asks Bert, while he pulls out a cream pie. "That's a four!" Ernie grins, and Bert pushes the pie in Ernie's face. "I knew it was a pie," Ernie remarks to the camera, "but who wants to be hit in the face with a number four?"
Film: "ROUND" -- A live-action film shows circles in everyday life, from Coca-Cola bottle caps, to moving wheels, to yo-yos, bubbles, and balloons, set to a lively soundtrack. (First: Episode 0002)
Cartoon: Ten little Greeblies (bug-like creatures) keep getting separated from their group, teaching a lesson in counting backward.
Cartoon: A man displays the capital and lowercase A, and explains what an alligator is...before he is eaten by one.
Cartoon: A boxer explains the letter "B" and the purpose of boxing gloves.
Speech Balloon: B -- Butterfly (aired twice)
Cartoon: "Poverty X" -- A lecturer explains how X is used at the end of words.
Film: "In the Woods": Two kids go out into the woods.
Film: A group of kids play follow the leader and go over, around and through various obstacles, but one of them takes a while to catch on. (First: Episode 0001)
Song: "Look a Little Closer" (tomato) (aired twice)