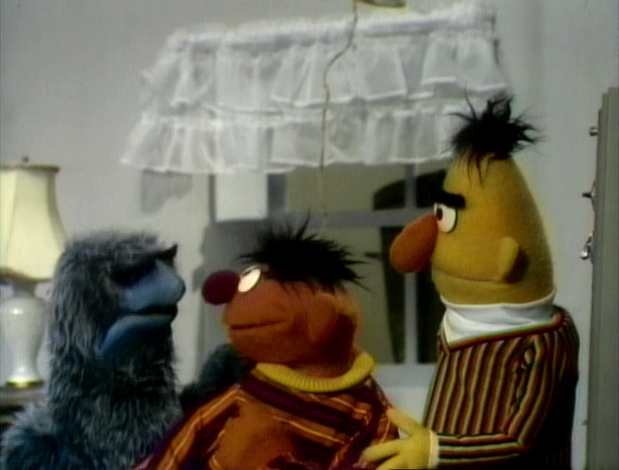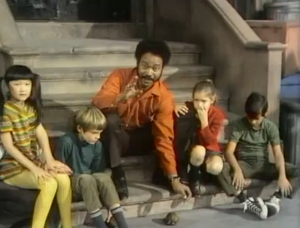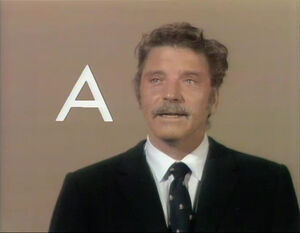 Mr. Hooper shows Susan his Super Duper Stealer Stopper which uses music to stop anyone from wanting to take his famous sodas. It works so well, he dances right out of the store and doesn't come back.
Gordon tries a few tongue-twisters starting with the letters W and S and demonstrates what noses and ears are good for.
Jennie draws pictures of things that are sometimes hard to find.
Alice Braithwaite Goodyshoes is standing next to a bathtub full of water. She is dry. A monster comes by and throws the water at her, causing her to be wet, then kisses her. "Bleah!" she says.
Ernie and Bert: Bert says that he and Ernie are looking at the "Mysterious Nose-Snatcher." Ernie, disagreeing, walks closer and closer to the camera to see. His face begins to black out the screen... but when he moves back into view, his nose is missing!
Bob and Gordon assemble a large "E" out of two separate pieces. They also do the same to make a "W".
Buddy and Jim try to explain what umbrellas are for, and get wet in the process.
Cartoon: A sprightly seal tells the story of six silly sailors who split up on a see-saw. (aired twice) (First: Episode 0002)
Animation: "E Imagination": A surreal story of a boy eating a peach atop an eagle witnessing a queen on her knee, dreaming of eating ice cream in a land of steam. (First: Episode 0001)
Cartoon: A worm declares that the word "worm" is the only important word that begins with "W". A walrus retaliates by dumping a bucket of water on it. (aired twice) (First: Episode 0001)
Rectangles in the city and country.
Gordon and the kids try to have a turtle race as the credits roll, and Jennie announces the sponsors.
Notes
The credit sequence for this episode appears on Old School: Volume 1. The sponsors mentioned by Jennie in this episode were removed.