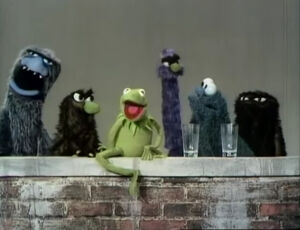 Mr. Hooper decides to close his store for the day because of noise coming from the construction site, but Gordon, Susan and Bob tell him they'll take over for him. He agrees, takes the day off, and his three friends set out to run the candy store. After agreeing to take turns, Gordon goes first and has a sale featuring everything starting with the letter W. Bob takes over next and holds a sale of everything starting with the letter E. Susan decides to have a special sale of all the items starting with the letter S. The three manage to turn in the best day of the year for Mr. Hooper in sales -- 37 cents.
Kermit's Lectures: Cookie Monster drinks both of Kermit's glasses of milk, which he was going to use to explain "more" and "less". When Kermit insults Cookie Monster, several of Cookie Monster's monster pals gang up on Kermit, prompting him to point out that now there are more monsters and less frogs.
Film: the "unsung beauty of manhole covers" is explored.
Ernie and Bert: Bert hears the phone ringing inside a basket and asks Ernie to answer it. Ernie goes through the basket and finds a banana. He pretends it's a phone and gives it to Bert to talk on. Ernie answers the real phone and tells the caller that Bert can't come to the phone because he's talking on the banana.
This sketch was semi re-made in the 2000s.
Cartoon: A fisherboy catches all the letters of the alphabet and makes alphabet soup.
A film shows how a boy uses "magic glasses" to see invisible things that make noises.
Cartoon: An octopus one-man band helps viewers learn how to count to ten.
Cartoon: A sprightly seal tells the story of six silly sailors who split up on a see-saw. (aired twice) (First: Episode 0002)
Clay animation: "E" -- the word "egg" is spelled out and becomes an egg, which then hatches an eagle. (First: Episode 0003)
Clay animation: Sam the Snake... and other things that begin with S. (aired twice) (First: Episode 0001)
Cartoon: A worm declares that the word "worm" is the only important word that begins with "W". A walrus retaliates by dumping a bucket of water on it. (aired twice) (First: Episode 0001)