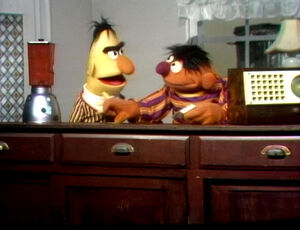 Ernie and Bert: Ernie finds an egg on the counter. Bert tells him to put it away so he can eat it later. Ernie doesn't understand. Bert sighs, "Just drop it!"... and Ernie does.
Ernie and Bert are watching TV, but Bert gets bored and decides to play a record. Ernie tells him to turn down the volume, but Bert won't, so Ernie drowns out Bert's music by playing the radio. Bert then retaliates by turning on the blender. With all four things running at once, they blow a fuse, causing a total blackout in their apartment. Bert goes outside to fix the fuse box, while Ernie turns off all the things that were running. When the lights come back on, they decide to play cards instead of fight.
Mr. Hooper demonstrates his Super Duper Two Maker.
Body Parts vs. Heavy Equipment: Three boys (including Brian Henson) pretend to be steam shovels, playing in the dirt. This segues into footage of real construction vehicles. A parallel is drawn between the machinery and how the boys' arms and mouths work.
Buddy and Jim have a difficult time in matching up a pair of tennis sneakers and a pair of heavy workboots with the right boxes.
Susan introduces a film about a baby reindeer.
"Egg Chant": A girl skips rope and says the alphabet as a boy sits with an egg on his knee; the egg hatches, and a dancing lizard comes out.
Clay animation: "E" -- the word "egg" is spelled out and becomes an egg, which then hatches an eagle.
Cartoon: "Count Up Elevator" -- An elevator operator stops at ten floors to pick up passengers, including a witch, a fireman, and a kangaroo. The tenth passenger, a mouse, causes the elevator to overload and explode.
Cartoon: A sprightly seal tells the story of six silly sailors who split up on a see-saw. (First: Episode 0002) (aired twice)
Clay animation: Sam the Snake... and other things that begin with S. (First: Episode 0001) (aired twice)