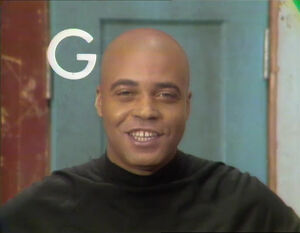 Gordon, Bob and Mr. Hooper keep bothering Oscar the Grouch, so he decides to leave. Unfortunately, nobody seems to mind, and Oscar is bored without having everyone bugging him. He decides he'd rather be bothered than have peace and quiet, so he returns home.
Mr. Hooper reads "Gwendolyn, the Miracle Hen" to some kids.
Buddy and Jim try to figure out a way to get an ironing board from one room to another.
Film: A boy counts 11 eggs and one cookie in an egg carton.
Cartoon: A sprightly seal tells the story of six silly sailors who split up on a see-saw.
Film: "ROUND" -- A live-action film shows circles in everyday life, from Coca-Cola bottle caps, to moving wheels, to yo-yos, bubbles, and balloons, set to a lively soundtrack.
Animation: "E Imagination": A surreal story of a boy eating a peach atop an eagle witnesseing a queen on her knee, dreaming of eating ice cream in a land of steam. (This segment is repeated three times in this episode.) (First: Episode 0001)