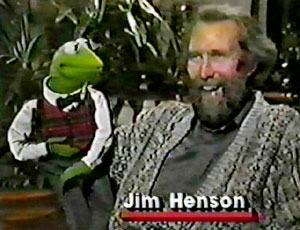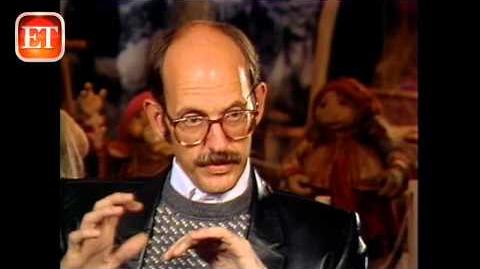 Entertainment Tonight is an entertainment news program which has been on the air since 1981.
In 1984, the program featured a small "investigative report" on Miss Piggy planning her wedding as a follow-up to The Muppets Take Manhattan, in which she asserts that her and Kermit were really married.
ET's weekend edition, Entertainment This Week, ran a segment covering the Muppet Meeting Films in 1987. Featured in interviews are Jim Henson as Leo, Kevin Clash as the Luncheon Counter Monster (referred to by name as "Monster"), and David Rudman. Clips from several films are shown as well as a number of behind-the-scenes shots taken during the filming of a short.
Jim Henson and Kermit the Frog appeared on the program in 1987 to promote their television special A Muppet Family Christmas. Henson mentions his Hitchcockian cameo at the end of the film, while Kermit admits that he puts up with Henson although he is not an actor.
In 1990, the progarm ran a four minute segment covering the death of Jim Henson, hosted by Leonard Maltin. Clips were included from The Muppets Take Manhattan, Wilkins Coffee ads, The Ed Sullivan Show, The Jack Paar Show, The Muppet Show, The Muppet Movie, Sesame Street, The Dark Crystal, Labyrinth, Teenage Mutant Ninja Turtles, and archive interview material with Henson, showcasing a brief chronology of events from Henson's career.
On October 4, 2011, Kermit appeared on the show to promote The Muppets as well as his safety campaign with UL Labs.[1] He returned with Miss Piggy on November 11 to promote the film.[2]
On March 19, 2012, Kermit and Walter appeared to promote the home video release of The Muppets.[3]
On March 21, 2012, Miss Piggy appeared in the studio to promote the release of The Muppets on DVD and Blu-ray.
In December 2012, to commemorate the 40th anniversary of The Dark Crystal, Entertainment Tonight aired an archival interview with Jim henson and Frank Oz from the time of the film's initial release. (YouTube)
In early March 2014, the show ended with a segment on Miss Piggy and Joan Rivers' QVC feud, and a brief comment from Piggy as she's leaving the party.
ET Canada
Canadian broadcaster of ET, Global, also airs a localized version called ET Canada.
In 2008, spin-off program ET Canada featured a look behind the scenes of A Muppet Christmas: Letters to Santa, focusing on Canadian choreographer Paul Becker.
In 2009, ET Canada featured a Rick Campanelli interview with Oscar the Grouch, for Waste Reduction Week. November 1, Jason Segel appeared on the program to promote The Muppets.
Sources
↑ Entertainment Tonight - Kermit Spreads Holiday Cheer & Safety Tips by Raphael Chestang (2011-11-09)
↑ Entertainment Tonight - Kermit & Miss Piggy Reclaim 'The Muppets' Magic by David Weiner (2011-11-11)
↑ Entertainment Tonight - Kermit Reveals Attractions Other Than Miss Piggy by Robert Pace (2012-03-19)
External links
Ad blocker interference detected!
Wikia is a free-to-use site that makes money from advertising. We have a modified experience for viewers using ad blockers

Wikia is not accessible if you've made further modifications. Remove the custom ad blocker rule(s) and the page will load as expected.