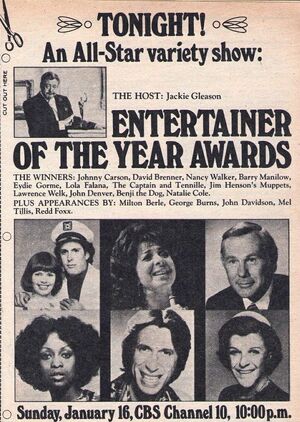 Entertainer of the Year was a CBS special hosted by Jackie Gleason on Jan. 16, 1977. It was one of a series which televised the awards from AGVA (American Guild of Variety Artists). Jim Henson appeared on the program to accept "Special Attraction of the Year" for the Muppets.
Ad blocker interference detected!
Wikia is a free-to-use site that makes money from advertising. We have a modified experience for viewers using ad blockers

Wikia is not accessible if you've made further modifications. Remove the custom ad blocker rule(s) and the page will load as expected.