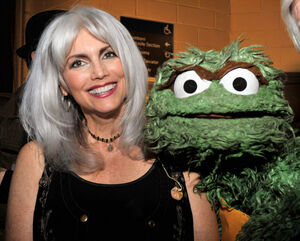 Emmylou Harris (b. 1947) is an American singer, songwriter, and musician. Harris often works with fellow performers Dolly Parton, Linda Ronstadt, and Neil Young. Harris performed for friend Pete Seeger's 90th Birthday celebration, The Clearwater Concert: Creating the Next Generation of Environmental Leaders, where Oscar the Grouch was among Seeger's other friends performing.
External links
Ad blocker interference detected!
Wikia is a free-to-use site that makes money from advertising. We have a modified experience for viewers using ad blockers

Wikia is not accessible if you've made further modifications. Remove the custom ad blocker rule(s) and the page will load as expected.