Emmet Otter's Jug-Band Christmas (stage show)
Talk

31
Share
Ad blocker interference detected!
Wikia is a free-to-use site that makes money from advertising. We have a modified experience for viewers using ad blockers

Wikia is not accessible if you've made further modifications. Remove the custom ad blocker rule(s) and the page will load as expected.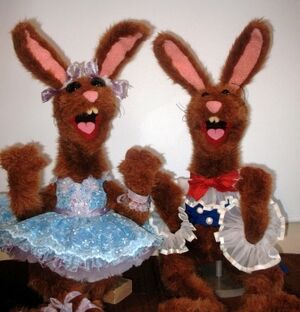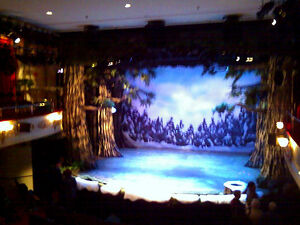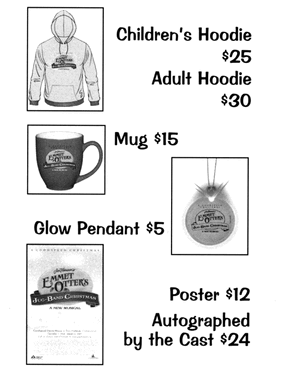 Jim Henson's Emmet Otter, originally titled Jim Henson's Emmet Otter's Jug-band Christmas, is a live-action stage musical adaptation of the 1977 television special Emmet Otter's Jug-Band Christmas. The show first opened on December 7, 2008 at the Goodspeed Opera House in East Haddam, Connecticut and ran until January 4, 2009. The show was developed by Goodspeed Musicals and the Jim Henson Company. The show returned to Goodspeed for the 2009-2010 season; running from December 5th to January 3rd.
The production features a mix of live actors and stage puppets built and refurbished by the Jim Henson Company. Paul Williams returned to write four new songs just for the stage adaptation, and finished "Born in a Trunk" which he originally started for the television special.
In addition to the extra songs, other changes were made in adapting the musical from the television special. Some are minor, such as merging Yancy Woodchuck with the fruit stand owner; while the most significant update is that of a framing device added by way of two new characters, Russ and Jane, a contemporary father and daughter who read the storybook together one Christmas Eve. In a move similar to The Wizard of Oz and Labyrinth, Jane ultimately finds herself within the context of the story itself. Another new character is Madame Squirrel, something of a leader for the acrobatic squirrel characters that appeared in the special (they themselves having been upgraded to more scenes for the stage version as well).
Opening night of the show included attendees Jane Henson and Jerry Nelson (Nelson having been the original puppeteer for the title character), and the Goodspeed Opera House went on to honor Paul Williams with the Goodspeed Award for Outstanding Contribution to Musical Theatre in 2010.
For the second run of the show, the show's title was changed, and shortened, from Emmet Otter's Jug-band Christmas to Jim Henson's Emmet Otter.[1]
A majority of the original cast members and puppeteers reunited for a one-night only concert at 54 Below on December 15, 2015, with Paul Williams and Marilyn Sokol in attendence. The performance featured a slightly modified script. The subplot with Jane and Russ was completely gone, though Kate Wetherhead (Jane) participated in the performance as the narrator. "Trust," a song added for the stage version, was rewritten to be sung by Emmet instead of Jane.
Songs
Original Cast
(In Order of Appearance)
Crew
Credits
Music and Lyrics by: Paul Williams
Book by (adapted for the stage): Timothy A. McDonald, Christopher Gattelli
Based on the Book by: Russell and Lillian Hoban
Director and Choreographer: Christopher Gattelli
Set Designer: Anna Louizos
Costume Designer: Gregg Barnes
Lighting Designer: Brian MacDevitt
Music Supervisor: Michael O'Flaherty
Music Director: Larry Pressgrove
Assistant Music Director: William J. Thomas
Music Arranger: Greg Brown
Orchestrations: Dan DeLange
Puppets by The Jim Henson Company
Produced by Michael P. Price, Brian Henson
2009 Cast
Sources
External links