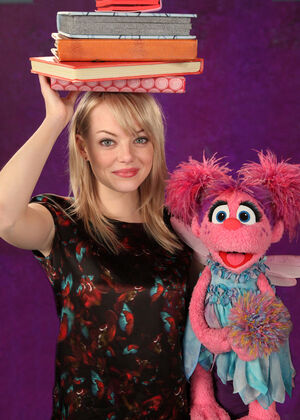 Emily Jean "Emma" Stone (b. 1988) is an American actress best known for her roles in the feature films Easy A, Zombieland and Superbad.
Stone appeared on Sesame Street to explain the word "balance" with Abby Cadabby in a Season 42 Word of the Day segment. In it, Stone tries to balance a laundry basket, then a stack of books, before Abby helps her out. (YouTube)
Other credits include a failed television reboot of The Partridge Family, voice over work on Robot Chicken and the 2012 big screen adaptation of The Amazing Spider-Man.
External links
Ad blocker interference detected!
Wikia is a free-to-use site that makes money from advertising. We have a modified experience for viewers using ad blockers

Wikia is not accessible if you've made further modifications. Remove the custom ad blocker rule(s) and the page will load as expected.