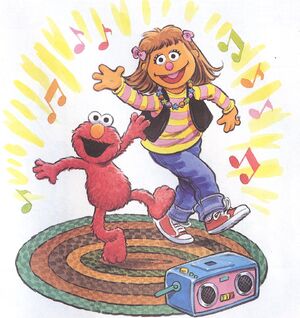 Emily is Elmo's babysitter in the 2001 storybook Elmo's First Babysitter. He's afraid of his parents leaving him alone with the babysitter, but Emily finds creative ways to put Elmo's mind at ease. She makes a kooky face dinner, dances to special music, blows bubbles in the bathroom, and even tells Elmo a special bedtime story. By the time Elmo goes to bed, he is having a good time, and wakes his parents up the next morning by wanting to know when Emily will be coming back.
Ad blocker interference detected!
Wikia is a free-to-use site that makes money from advertising. We have a modified experience for viewers using ad blockers

Wikia is not accessible if you've made further modifications. Remove the custom ad blocker rule(s) and the page will load as expected.