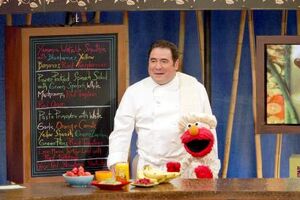 Emeril Lagasse (b. 1959) is a celebrity chef, known for his TV shows on the Food Network.
Emeril appeared in the 2000 direct-to-video special Elmo's Magic Cookbook.
He is the host of Emeril Live on which Elmo, Grover, Rosita and Telly have appeared. The Muppets appeared alongside Emeril at the end of a cooking segment, November 2011 on Good Morning America, while they were promoting The Muppets.
External links
Ad blocker interference detected!
Wikia is a free-to-use site that makes money from advertising. We have a modified experience for viewers using ad blockers

Wikia is not accessible if you've made further modifications. Remove the custom ad blocker rule(s) and the page will load as expected.