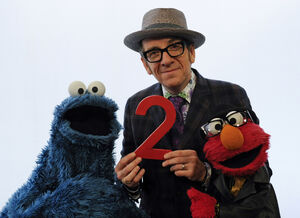 Elvis Costello (b.1954) is an English singer-songwriter. In 2011, Costello performed with Kami, Telly Monster, Abby Cadabby, Grover and Cookie Monster at the Annual Sesame Workshop Benefit Gala.
Costello has written for Vanity Fair, and appeared as himself in the feature film Austin Powers: The Spy Who Shagged Me and the television series 30 Rock and 3rd Rock from the Sun.
Costello appeared on Sesame Street for the song "(A Monster Went and) Ate My Red Two", a parody of his song "(The Angels Wanna Wear My) Red Shoes", with Elmo and Cookie Monster. (YouTube)
External links
Ad blocker interference detected!
Wikia is a free-to-use site that makes money from advertising. We have a modified experience for viewers using ad blockers

Wikia is not accessible if you've made further modifications. Remove the custom ad blocker rule(s) and the page will load as expected.