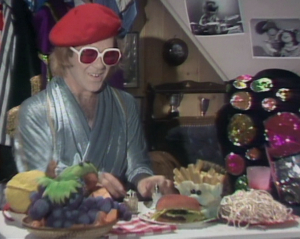 Elton's John Lunch appeared in The Muppet Show episode 214. An eclectic meal served to guest star Elton John in his dressing room, the luncheon includes a hamburger, french fries, a pink beverage, plate of spaghetti, grapes, cantaloupe, and melon. All effusively express their adoration, idolation, and affection for Elton, even as he covers them with salt preparatory to consumption. The beverage in particular gushes, literally, its fluid spritzing out like a geyser.
Ad blocker interference detected!
Wikia is a free-to-use site that makes money from advertising. We have a modified experience for viewers using ad blockers

Wikia is not accessible if you've made further modifications. Remove the custom ad blocker rule(s) and the page will load as expected.