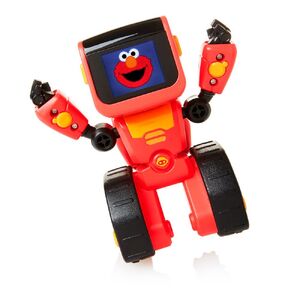 Elmoji is an Elmo toy robot developed by WowWee Robotics released in fall 2017.[1]
It was unveiled on January 3, 2017 at the Consumer Electronics Show, and is designed to introduce kids to STEM (science, technology, engineering, and math) concepts. The robot works with a free mobile app, and will teach basic programming skills.[2][3]
Sources
↑ Robotics Trends "Elmo Coding Robot Introduces Kids to STEM" by Steve Crowe, January 3, 2017
↑ Mashable Super cute little Elmo robot wants to teach kids to code By Laura Vitto, January 4, 2017
Ad blocker interference detected!
Wikia is a free-to-use site that makes money from advertising. We have a modified experience for viewers using ad blockers

Wikia is not accessible if you've made further modifications. Remove the custom ad blocker rule(s) and the page will load as expected.