Ad blocker interference detected!
Wikia is a free-to-use site that makes money from advertising. We have a modified experience for viewers using ad blockers

Wikia is not accessible if you've made further modifications. Remove the custom ad blocker rule(s) and the page will load as expected.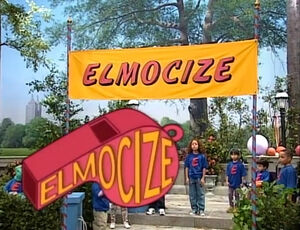 Elmocize is a 1996 Sesame Street direct-to-video compilation.
Monty visits and takes part in Elmo's Exercise Camp as he learns the benefits of exercise. With Rosita, Slimey, and guest appearance by Cyndi Lauper, they will show Monty that exercising is fun and easy to do.
Releases
International releases
DVD chapters
Welcome to Elmo's Exercise Camp
Everybody Elmocize!
Exercise With a Caterpillar
Camp Elmo Graduates
Dance to the Rhythm, Dance to the Beat
Parts of the Body
Get Up and Bend with Elmo!
Jump, Leap and Skip!
Do the Twist with Cyndi Lauper
Everybody Elmocize Again!
Credits
Kevin Clash as Elmo and Benny Rabbit
Cast: Lexine Bondoc, Michael Bundy, Tarah Schaeffer, Derrick Brown, Naomi Hernandez, Antonio Rodriguez, Amy Tai, Alexandra Young
Special Appearances by: Cyndi Lauper, Annette Calud
Music Director: Robby Merkin
Songs by: Christopher Cerf, Emily Perl Kingsley, Robby Merkin, Fernando Rivas, Nancy Sans, Luis Santeiro, Gail Sky King, Jimmie Thomas
Production Designer: Victor DiNapoli
Graphic Designer: Mike Pantuso
Associate Director: Ken Diego
Costume Designers: Bill Kellard, Terry Roberson
Set Decorator: Nat Mongioi
Music Coordinator: Danny Epstein
Camera: Frank Biondo, Charles Hunt, Patrick Minietta
Audio: Blake Norton, Carla Bandini-Lory
Sound Effects: Dick Maitland
Executive In Charge Of Production For Sony Wonder: Becky Mancuso-Winding