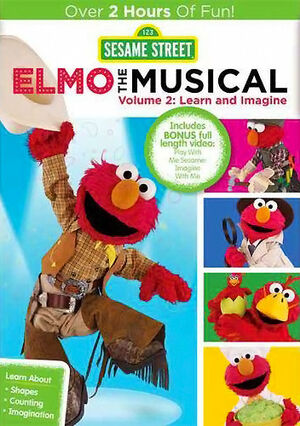 Elmo the Musical - Volume 2: Learn and Imagine is a Sesame Street DVD released as a Walmart exclusive on August 12, 2014. The DVD received a wider-release on May 5, 2015.
A follow-up to the previous DVD release, this installment features seven Elmo the Musical episodes, including:
"Cowboy the Musical"
"Mountain Climber the Musical"
"Detective the Musical"
"Airplane the Musical"
"Guacamole the Musical
"Repair Monster the Musical"
"Bird the Musical"
The Play With Me Sesame video Imagine with Me is included as a bonus feature.
Ad blocker interference detected!
Wikia is a free-to-use site that makes money from advertising. We have a modified experience for viewers using ad blockers

Wikia is not accessible if you've made further modifications. Remove the custom ad blocker rule(s) and the page will load as expected.