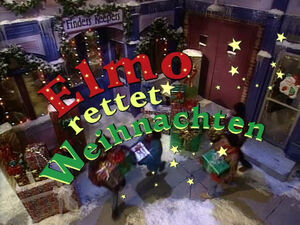 Elmo rettet Weihnachten is the German dub of the Sesame Street special, Elmo Saves Christmas. The dub originally aired in 1999 on NDR.
The special was posted on the show's official website in December 2012. In this version, Elmo's voice was re-dubbed by his current Sesamstrasse performer, Martin Reinl. This dub was released on DVD the following year, November 29.
Video releases
Ad blocker interference detected!
Wikia is a free-to-use site that makes money from advertising. We have a modified experience for viewers using ad blockers

Wikia is not accessible if you've made further modifications. Remove the custom ad blocker rule(s) and the page will load as expected.