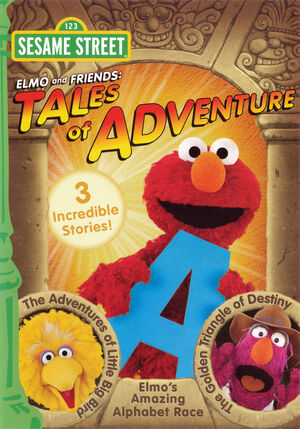 Elmo and Friends: Tales of Adventure is a DVD from Genius Entertainment released exclusively to Target for a limited time in 2008, and later in a wider release in 2009. The packaging and menus are designed with an Indiana Jones theme, and features Elmo dressed as the adventurer. At 54 minutes in length, the DVD strings together the Street stories from the following episodes:
En Vogue's "Adventure" is also featured twice.
International releases
Gallery
See also
Ad blocker interference detected!
Wikia is a free-to-use site that makes money from advertising. We have a modified experience for viewers using ad blockers

Wikia is not accessible if you've made further modifications. Remove the custom ad blocker rule(s) and the page will load as expected.