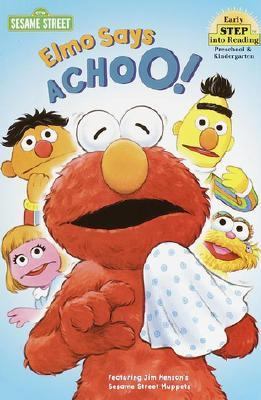 Elmo Says Achoo! is a 2000 Sesame Street "Step Into Reading" book featuring Elmo.
In the book, Elmo sneezes as he carries a present through Sesame Street, upsetting everything as he goes by -- knocking down a wall, and scattering people left and right with his mighty blows. It turns out that he's carrying a new stinkweed plant to Oscar the Grouch.
Reissues
The book was reprinted in 2002 by Random House as a Step Into Reading Step 1 book. (ISBN 0375903119)
The book was reissued in 2010 by Publications International as a Play-a-Story Animated Storybook, packaged with a DVD. The 8-minute DVD features Elmo (Kevin Clash) narrating the story with Tom Brannon's original illustrations animated. The story was adapted from Sarah Albee by Eric Furman. It's included as a bonus feature on the Elmo's World: People in Your Neighborhood DVD.