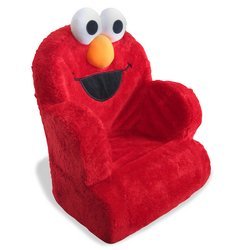 Spinmaster released two plush, battery-operated, Elmo-themed chairs for children. The "Elmo Says Spin Chair", is a turntable spinning chair. Squeezing Elmo's hand makes him sing "Elmo Says". The "Elmo Giggle and Shake Chair" giggles and vibrates briefly when a child sits down.
Ad blocker interference detected!
Wikia is a free-to-use site that makes money from advertising. We have a modified experience for viewers using ad blockers

Wikia is not accessible if you've made further modifications. Remove the custom ad blocker rule(s) and the page will load as expected.