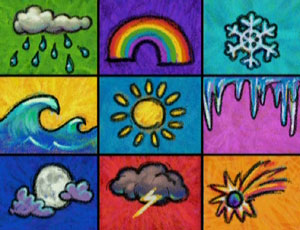 | Picture | Segment | Description |
| --- | --- | --- |
| | Guess what Elmo's thinking about today? | It rains in Elmo's room, then the wind blows from the door, then the sun shines in Elmo's room from the door, and then, snow came out from the door covering Elmo. |
| | Dorothy's Question | Dorothy has a snowman decoration in her fish bowl. She wants to know what people wear in the rain. |
| | The Noodle Family | Elmo realized that it was going to rain outside and checked the shade, but saw Mr. Noodle under the rain. He wears snorkeling gear, winter clothing and a rainjacket and hat in turn; he dances in the rain. |
| | Kids and Baby | Kids show what they wear in the rain. Elmo asks a baby with a rain hat. |
| | Video E-Mail | Oscar the Grouch talks about keeping his can's lid open in the rain and how Fluffy loves splashing in the puddles. Oscar tells Elmo to scram, but when he realizes that he's sending the e-mail, he scrams himself. |
| | Elmo's Question | Elmo asks the viewer to help him count CGI leaves blowing in the wind. |
| | Quiz | Elmo asks questions about things you can do with snow. The Count appears counting snowflakes. |
| | Film | Elmo's friend Alex and his mom go outside after a snowfall. They make footprints, a snow angel, and a snowman, have a snowball fight and go sledding. |
| | TV Cartoon | The Weather Channel (blowing into your house) shows the Weather Lady and her dog. She talks about the four seasons. Coming up next: A Snowman for All Seasons (catch it before it melts!). |
| | Interview | Elmo opens the door to a tornado (Auntie Em! Auntie Em!) and then has to chase it out. Once outside, the tornado talks with Elmo about sports you can do in different kinds of weather. |
| | Tickle Me Land | Dorothy imagines Elmo wind surfing and skiing. |
Ad blocker interference detected!
Wikia is a free-to-use site that makes money from advertising. We have a modified experience for viewers using ad blockers

Wikia is not accessible if you've made further modifications. Remove the custom ad blocker rule(s) and the page will load as expected.