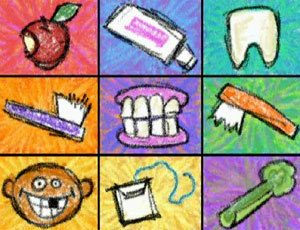 | Picture | Segment | Description |
| --- | --- | --- |
| | Guess what Elmo's thinking about today? | Elmo opens his closet door to reveal shelves full of chattering teeth, which all fall on top of him. |
| | Dorothy's Question | Dorothy wants to know how you take care of your teeth. |
| | The Noodle Family | Mr. Noodle's brother Mr. Noodle demonstrates by shoving a tube of toothpaste into his mouth and gets himself covered in toothpaste before he begins to brush his eyelids and ears with his electric toothbrush. |
| | Kids and Baby | Kids brush their teeth and eat carrots to show how they can take care of their teeth as a baby gums on a biscotti. |
| | Quiz | Elmo wants to know who else has teeth. Benny Rabbit appears. |
| | Video E-Mail | The Count shows Elmo how he brushes his two teeth with a special toothbrush. |
| | Elmo's Question | Elmo counts how many apples are eaten by a set of teeth in his new video game which shares a close resemblance to Pac-Man. The game ends with a teeth bursting from the bang as Elmo shouts "Bonus Points!" |
| | Film | Elmo's friend Nicholas tells Elmo all about his first trip to the dentist. The dentist tells him he has twenty teeth and uses a camera to show him what they look like on a small TV. |
| | TV Cartoon | The Teeth Channel airs "All About Teeth" with the Tooth Fairy. She describes the process of growing and losing your first teeth, and how she leaves a quarter for each tooth lost. Coming up next: To Tell the Tooth, followed by Tooth or Consequences. |
| | Interview | Elmo talks to a very smart wisdom tooth. She tells Elmo all about what teeth do, even if it is a bit of a grind. |
| | Tickle Me Land | Dorothy imagines Elmo as a beaver, a shark and an elephant. |
Ad blocker interference detected!
Wikia is a free-to-use site that makes money from advertising. We have a modified experience for viewers using ad blockers

Wikia is not accessible if you've made further modifications. Remove the custom ad blocker rule(s) and the page will load as expected.