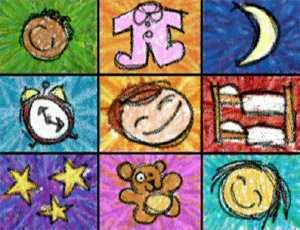 | Picture | Segment | Description |
| --- | --- | --- |
| | Guess what Elmo's thinking about today? | Elmo opens his door, who was sleeping with shade, and wakes up the Two-Headed Monster. |
| | Dorothy's Question | Dorothy says that fish don't sleep. She wants to know how you go to sleep. |
| | The Noodle Family | Elmo wakes up shade with an alarm clock and finds Mr. Noodle's brother Mr. Noodle thumb wrestling with himself. He tries to sleep on the floor before trying various positions on the bed. |
| | Kids and Baby | Kids go to sleep with teddy bears and sleep in bunk beds. Babies go to sleep in cribs. |
| | Video E-mail | Elmo tries to wake up his sleepwalking computer and snoring mouse, in order to see his e-mail. Ernie sends a message while Bert snores in the bed next to him. Ernie's not sleepy, so he decides to play his bugle, thus waking up Bert. |
| | Elmo's Question | Elmo counts how many elephants can sleep on a bed. In the end, a feather makes the bed fall down. |
| | Quiz | Elmo wakes the Drawer up by shouting "Cock-a-doodle-doo!" Telephones wake people up and horses sleep standing up. Cookies don't sleep, but Cookie Monster dreams about them while he sleeps (sweet dreams). |
| | TV Cartoon | Elmo wakes up TV with cymbals and tunes in to The Sleep Channel, which features "The Girl Who Loved to Sleep." Stay tuned for Supermarket Sleep and Snooze at 6:00. |
| | Interview | Elmo talks to a Bed and Pillow ("You tell 'em, Beddy-boy!") and a nest with a bird sleeping outside the shade. |
| | Tickle Me Land | Dorothy imagines Elmo as a flamingo, a squirrel, and a flock of sleeping bats. |
| | The Sleep Song | Elmo and friends sing "The Sleep Song." The bed notes that a sleep song is called a lullaby. Elmo begins to fall asleep, so bed, pillow, and the nest with the bird finish singing for Elmo. |
Ad blocker interference detected!
Wikia is a free-to-use site that makes money from advertising. We have a modified experience for viewers using ad blockers

Wikia is not accessible if you've made further modifications. Remove the custom ad blocker rule(s) and the page will load as expected.