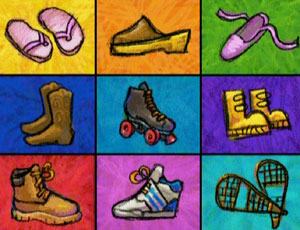 | Picture | Segment | Description |
| --- | --- | --- |
| | Guess what Elmo's thinking about today? | Elmo opens his closet to discover a giant mound of shoes, which tumble out. A montage of walking feet in shoes follows. |
| | Dorothy's Question | Dorothy has a miniature shoe in her bowl. She wants to know how to put on shoes. |
| | The Noodle Family | Mr. Noodle (against a plainer background than usual) first puts his shoes on his hands, then his ears, then finally on his feet - but ties the laces together and falls on his face. |
| | Kids and Baby | Kids show how they put on shoes. Elmo gives a shoe to a baby, who plays with the laces. |
| | Elmo's Question | Elmo asks the viewer to help him count how many shoes are in a pair of shoes |
| | Quiz | Elmo asks who wears shoes and who doesn't. Birthday cakes don't, but astronauts do - space shoes. Tables don't, but they have legs. Horses wear horseshoes. Snuffleupaguses don't, except when they're tap dancing, which Snuffy demonstrates. |
| | Film | Elmo's friend Brianna goes with her daddy to the shoe store to buy a new pair of shoes. On their way out of the store, they throw her old shoes in a trash can which is occupied by Oscar. |
| | TV Cartoon | The Shoe Channel features "The Story of Shoes." Coming up, "Heel of Fortune," followed by "Your Shoe of Shoes." |
| | Interview | Elmo interviews a lavender and leopard-print shoe, and learns about the parts of shoes. Also heard from are a pair of hiking boots and a pair of loafers. |
| | Tickle Me Land | Dorothy imagines Elmo hiking, tap dancing, and ice skating. |
| | Home Video | Elmo shows a video he made of "What Shoes Do When Nobody's Wearing Them." |
Ad blocker interference detected!
Wikia is a free-to-use site that makes money from advertising. We have a modified experience for viewers using ad blockers

Wikia is not accessible if you've made further modifications. Remove the custom ad blocker rule(s) and the page will load as expected.