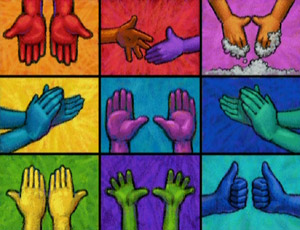 Picture
Segment
Description

Guess what Elmo's thinking about today?

Elmo opens the door to see a clip of kids applauding. A video montage plays of children playing hand games and doing things with their hands.

Dorothy's Question

Dorothy has a blue hand decoration in her fish bowl. She wants to know how to wash your hands.

The Noodle Family

Mr. Noodle's brother Mr. Noodle puts his foot, face and elbows in the sink before washing his hands.

Kids and Baby

Kids wash their hands with bar soap and liquid soap. Elmo asks a baby with a bowl of water.

Elmo's Question

Elmo asks the viewer to help him count the number of times a CG bongo player hits his drums.

Video E-Mail

Telly and Baby Bear play pattycake.

Quiz

Elmo asks yes/no questions whether things have hands. Rosita appears to use her hands to play a guitar.

Film

Elmo's friend David, his mommy and friend Lauren go to the zoo, where he teaches Lauren the American Sign Language signs for the animals they see.

Note: Elmo narrates this film since David is deaf.

TV Cartoon

The Hands Channel has Mandy sing about all the things hands can do.

Interview

Elmo talks to a hand (Roscoe Orman). The hand lets Elmo count its fingers, scratches Elmo's back, acts as a shadow puppet and snaps.

Tickle Me Land

Dorothy imagines Elmo doing a handstand, playing handball, and multiple Elmos conducting and playing in an orchestra.
Notes
A live-hand Elmo puppet was used, and the hand Elmo consults at the end of the segment was Roscoe Orman's, and featured his voice.
The Elmo conducting the orchestra was loosely based on famed conductor Arthur Fiedler.