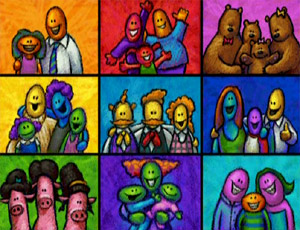 | Picture | Segment | Description |
| --- | --- | --- |
| | Guess what Elmo's thinking about today? | Elmo points to a picture on the wall that he drew of his mommy and daddy. He opens his door several times to show pictures of various families. One of them is a Honker family with a mommy, a daddy, a baby and a granddaddy. |
| | Dorothy's Question | Dorothy's family is visiting, including her Uncle Frank. She wants to know what other familes like to do together. |
| | The Noodle Family | Mr. Noodle and Mr. Noodle's brother Mr. Noodle are visiting with one another. They like to dance the Noodle family dance, which Elmo joins in on by dressing up as one of the Noodles. |
| | Kids and Baby | Kids tickle and play piggy back with their families. This is one of the few episodes where an adult appears in the Ask A Baby segment. |
| | Video E-mail | Papa Bear, Mama Bear, and Baby Bear tells Elmo that families like them can eat porridge. (In some later episodes, this portion is edited out.) |
| | Elmo's Question | Elmo counts how many members of a clown family can fit into a clown car. |
| | Quiz | Super Grover and his mom (in her own superhero persona) crash land in the park. |
| | Film | Elmo's friend Rena goes to lunch at a Chinese food restaurant for her grandmother's birthday. |
| | TV Cartoon | The Family Channel answers the question: Can Elmo see all kinds of families? Coming up next: Uncle Vanya, Charlie's Aunt, and Whistler's Mother starring Moms Mabley. |
| | Interview | Elmo talks to The Oinker Sisters; he has their album, "The Days of Swine and Roses." |
| | Tickle Me Land | Dorothy imagines Elmo as a goatherd family. |
Ad blocker interference detected!
Wikia is a free-to-use site that makes money from advertising. We have a modified experience for viewers using ad blockers

Wikia is not accessible if you've made further modifications. Remove the custom ad blocker rule(s) and the page will load as expected.