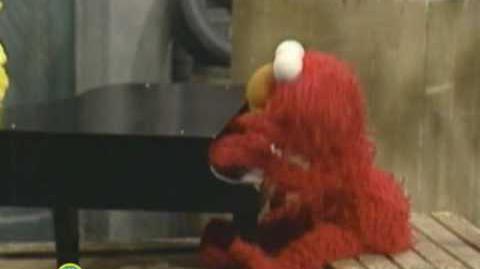 "Elmo's Song" is a Sesame Street song from Season 21. Elmo writes his own song and sings it for Big Bird and Mr. Snuffleupagus, who then wish that they had their own songs. Elmo lets them insert their own names into the lyrics, resulting in "Big Bird's Song" and "Snuffy's Song." In those versions, the other two characters provide the backing vocals. The sketch ends with Elmo calling for Gordon and Gabi, so that they can have their own songs. Most releases cut this ending.
A variation of "Elmo's Song" is used as the opening theme for "Elmo's World." An instrumental version of the song is also used in the opening theme for Sesame Amigos.
Releases
Audio
Video
Online
Publications
Ad blocker interference detected!
Wikia is a free-to-use site that makes money from advertising. We have a modified experience for viewers using ad blockers

Wikia is not accessible if you've made further modifications. Remove the custom ad blocker rule(s) and the page will load as expected.