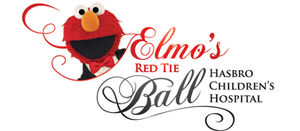 Hasbro Children's Hospital
is the pediatric wing of the Rhode Island Hospital, a non-profit located in Providence.
Its 18th annual fundraising gala, on March 5, 2011, was themed as "Elmo's Red Tie Ball"; Elmo will be the featured guest. Platinum-selling singer Colbie Caillat performed.
The event ran from 5:30 pm to midnight, at the Rhode Island Convention Center. The event was presented by Hasbro, Toys R Us, KPMG, and William Morris Endeavor Entertainment.
Ad blocker interference detected!
Wikia is a free-to-use site that makes money from advertising. We have a modified experience for viewers using ad blockers

Wikia is not accessible if you've made further modifications. Remove the custom ad blocker rule(s) and the page will load as expected.