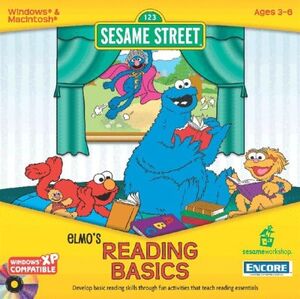 Elmo's Reading Basics is a Sesame Street CD-ROM game for home computers. The game was developed by Creative Wonders and Children's Television Workshop in 1998 and later re-released by Encore Software and Sesame Workshop in 2006. Elmo presents 6 reading games at three different levels. Concepts introduced include letters, words, and sentences. This game was included in the Elmo's Reading: Preschool and Kindergarten CD-ROM 2-disc set in 1998, along with Elmo Through the Looking-Glass.
Contents
Ad blocker interference detected!
Wikia is a free-to-use site that makes money from advertising. We have a modified experience for viewers using ad blockers

Wikia is not accessible if you've made further modifications. Remove the custom ad blocker rule(s) and the page will load as expected.