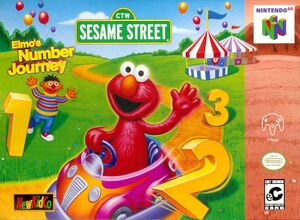 Elmo's Number Journey is a 1999 Sesame Street video game in which Elmo explores Sesame Street and places beyond in a quest to collect numbers.
The game was developed by Realtime Associates Inc., for the Sony PlayStation and Nintendo 64 video game systems and published by NewKidCo, with Ubisoft Entertainment publishing the game in Europe. A companion game, Elmo's Letter Adventure, was also released in 1999.
Ad blocker interference detected!
Wikia is a free-to-use site that makes money from advertising. We have a modified experience for viewers using ad blockers

Wikia is not accessible if you've made further modifications. Remove the custom ad blocker rule(s) and the page will load as expected.